This shop has been compensated by Collective Bias, Inc. and its advertiser. All opinions are mine alone. #TryTENAOvernight #CollectiveBias
I'm one of them and when you're such an active woman like myself, the unexpected leak can interrupt us living to the fullest. Even though so many women suffer from Overactive Bladder (OAB) it still a taboo and we don't like to talk about it, obviously who's going to want to talk about accidental peeing right?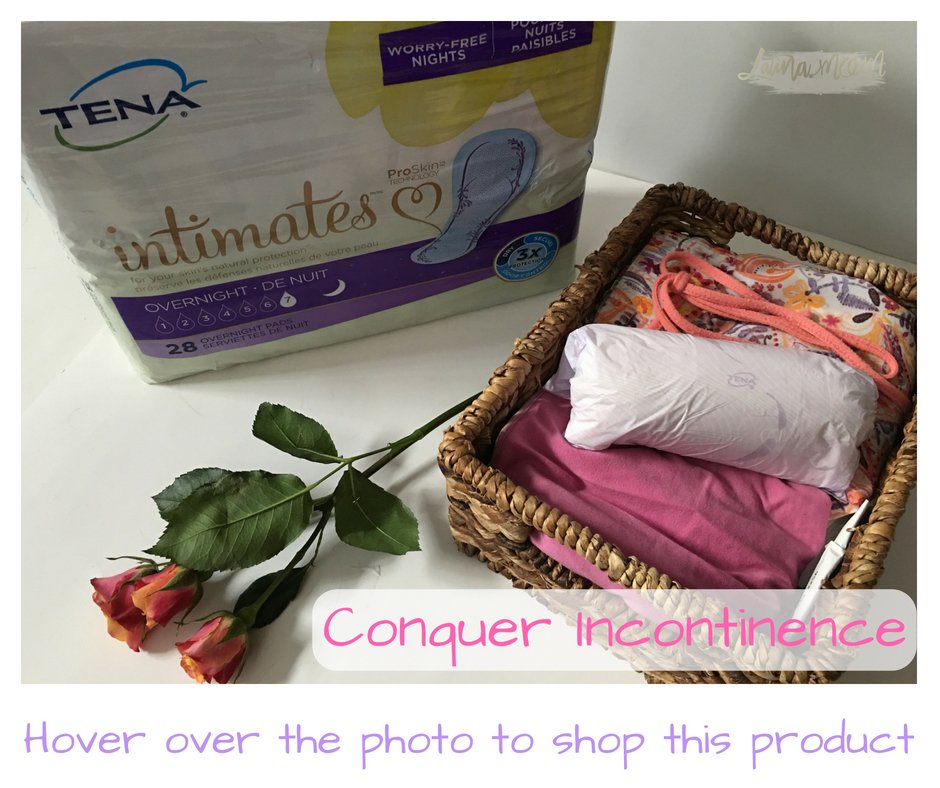 Well I will and I will also tell you about  how TENA intimates® Overnight Pads, which have helped me live my life without compromise.
I have two very active boys 9 & 10 years old and since their birth I suffer from bladder leakage issues and over the years the situation has worsened and now I also suffer from Nocturnal OAB, which is very uncomfortable and in some cases extremely embarrassing. OAB  can really ruin my days, nights and traveling. A few years ago I had one of my  biggest embarrassments. During a party at a friend's house where I spent the night, I woke up in the middle of the night feeling wet, I had peed while sleeping! I was so tired I didn't even noticed, I truly wanted to die! I got up  around 3:00am, took a shower and put the sheets in a plastic bag. In the morning, to disguise my incident, I told my friend I spilled wine on the sheets and I put them in the washing machine, I was safe this time.
Since my horrific incident, I stop drinking any liquids at least 1 hour before I go to bed and make sure  I pee right before hitting the pillow. At night as soon as I have the feeling that I want to pee I get up and go to the bathroom, sometimes I'm so nervous I just get up in the middle of the night thinking I want to pee. Nocturnal OAB is the cause most nights I don't have a good night sleep and I'm tired the next day.
Nowadays is different, thanks to TENA intimates® Overnight Pads which gives me confidence with protection for the Unexpected Leak™ Since I tried them I sleep like a baby. TENA intimates® Overnight Pads have the same great absorbency with Triple Protection, now with ProSkin Technology™ for worry-free nighttime protection and fast absorption for staying fresh. We know that one Unexpected Leak is one too many.
I bought TENA intimates® Overnight Pads at my local Walgreens store in San Diego, Ca. You can check out the product and prices by clicking here: Walgreens
They're located by the feminine products,  so it was easy to find, grab them and pay, I didn't feel embarrassed at all. Want to try TENA intimates® Overnight Pads? On May 20th there will be an FSI in the paper where you can get $4.00 off any one (1) TENA® Overnight Pad or TENA® Overnight Underwear (2 week duration). This offer can only be redeemed in-store an ends on June 3rd. You can also get $3 off any TENA® Underwear through Ibotta in May starting on May 9th.
TENA® empowers women to keep living our lives to the fullest. Give it a try! It will change your life. TENA® Intimates™ Overnight Pads  will give you peace at night so you can have a good night sleep and be ready for your next adventure!
Talking about adventures, you know I'm always going somewhere, I'm adventurous, I love to travel, always on the go.  I'm also very active so here are my Top Go To Essentials While Traveling For Active Women, So You Don't Miss Out Any Moment!
When traveling, I don't leave my house without my Flipbelt, either my crops or belt, both have integrated pockets to carry your essentials such as your phone, keys, credit card, I'D etc..
You know I love to run, specially at early hours, there's nothing more peaceful for me than watching the sunrise during my run, but I found out the bad way, I can't run in complete darkness, that's why I always carry my Night Runner 270, which are headlights for your shoes. You slide the clips on you laces and you're ready to go!
I love to wear my hair down, but when you're on the go, you get sweaty and I hate not having a hairband to put my hair up. That's why I love Bittersweet By Maria Shireen hair tie bracelets, they're perfect for the on-the-go woman. The bracelets hold those not so beautiful hair ties in a beautiful and fashionable way.
TENA® Intimates™ Overnight Pads are the first to go essential I put in my suitcase when traveling. They're designed for comfort and made for performance, TENA® incontinence products let you do the things you love, without missing out on any moment or experience. TENA® Lets You Be You!
The Magnetic Smartphone Mount with Bluetooth Remote by ShowOff Your Life! turns your phone  into a personal photographer, mounted TV, and more in a matter of seconds. It makes it easy to snap a photo, follow along a workout or watch your favorite show on your smartphone.
I hope my list of Go To Essentials While Traveling For Active Women helps you live your life to the fullest and enjoy your next adventure and remember, don't allow the unexpected leak rule your life, take control of incontinence and enjoy every moment, I am! Thanks in big part to TENA® Intimates™ Overnight Pads.
You can learn more about TENA® products on their social channels: